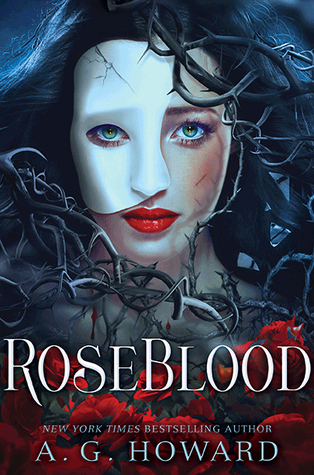 RoseBlood by A.G. Howard is a beautiful book. That was my first reaction when I saw it. It's just a beautiful book. You can tell extra work went into the design. The text is blood-red and the chapters have very lovely red decoration. The cover is beautiful, almost breathtakingly so. I was given this book as a gift from K. Leigh, and the second I saw the cover I wanted to read it. She had asked me if I had read a book where the Phantom was a female, to which I had responded that I have not. Then, when she surprised me with the book, I was enchanted. As soon as I had the chance, I read it.
The summary from Goodreads is:
"In this modern-day spin on Leroux's gothic tale of unrequited love turned to madness, seventeen-year-old Rune Germain has a mysterious affliction linked to her operatic talent, and a horrifying mistake she's trying to hide. Hoping creative direction will help her, Rune's mother sends her to a French arts conservatory for her senior year, located in an opera house rumored to have ties to The Phantom of the Opera.
At RoseBlood, Rune secretly befriends the masked Thorn—an elusive violinist who not only guides her musical transformation through dreams that seem more real than reality itself, but somehow knows who she is behind her own masks. As the two discover an otherworldly connection and a soul-deep romance blossoms, Thorn's dark agenda comes to light and he's forced to make a deadly choice: lead Rune to her destruction, or face the wrath of the phantom who has haunted the opera house for a century, and is the only father he's ever known"
Now, this book was good, but it wasn't the best Phantom-based story I've ever read (that honor goes to Susan Kay's "Phantom.") My main issue with the story is that it started off rather slow. I was constantly waiting for something to happen. While the multiple attacks of Rune's ailment were a bit tedious, I loved the idea that Rune's ailment was temporarily cured by Thorn's violin playing. It was a cute way to forge a connection between the two.
I was surprised to find that me and K.Leigh were wrong about the story, in that we had assumed by the cover that the story was about a female Phantom. The Phantom of the Opera is in the story, but it is not Rune, the girl on the cover. This did not affect my opinion of the story, but it was a bit confusing as to why they would show her wearing the mask rather than her holding it, as some of the other cover mockups suggest. According to an interview with the author here, they chose the final cover because it also had ties to Howard's more popular series "Splintered." While I understand their reasoning for choosing the cover, and it is a truly beautiful cover, it is slightly misleading.
However, once I realized that the mask wasn't Rune's, I expected the Phantom to pull his usual tricks and treat her as he did Christine. We don't really get interaction between the two until a good ways into the novel, which was disappointing. Instead, the connection is between Thorn and Rune. This makes more sense, as the Phantom is quite a bit older than Rune and Thorn is closer to her in age, but still. Is a story truly a Phantom of the Opera story if he's a minor character?
I really did like this story. It was a joy to read, especially regarding how pretty the book itself is. Heck, I just bought an autographed first-edition. Would I read it again? Heck yes. It's a great story. Is it worth reading? Very much so. It's very well written, minus the slow start.
If you're a Phantom "phan," it's a must-read.
To get your copy of "RoseBlood" by A.G. Howard, go here.
Tags: ag howard, fanfiction, phantom of the opera, Review, romance, roseblood, splintered